About
Tri-Peek International
It started with a good idea. After launching the first subsidiary of WD40 USA in Canada and exceeding sales forecasts for five years as a regional manager, Robert Peek resigned and relocated to the UK. In 1989, he approached a chemist to ask if he could develop a polish that worked on a chemical reaction and could be used on a multitude of non-porous surfaces—and a year later Peek Polish was launched.
Robert clearly remembers his first sale, made from the back of his car: a one-quart can. His second sale was a carton of cans, his third was 25 cartons —and the company really took off. Robert focused on the UK market and his brother handled North America from his Toronto office.
In 2005, Tri-Peek International was awarded the Royal Warrant as purveyors of metal polish—after being used for years on the Royal Yacht Britannia and for various other uses required by Buckingham Palace. It was noted that "the multi-metal cleaner was proven able to cope with the full range of alloys aboard Britannia, removing all pollutants while being non-toxic, non-flammable and providing sealant protection."
In 2008, Robert relocated to the U.S.; by that time, Peek Polish was being exported to 20 countries. Today, the company has offices in the UK, Canada, and U.S., and representatives in New Zealand, Netherlands and Belgium, South Africa, Germany, Australia, Spain, and Republic of Ireland.
Since its launch, Peek Polish has been used by millions of people in businesses and households to clean, polish, and restore metals and fibreglass on everything from boats, aeroplanes, and cars to housewares, hardware, sporting goods, and jewellery.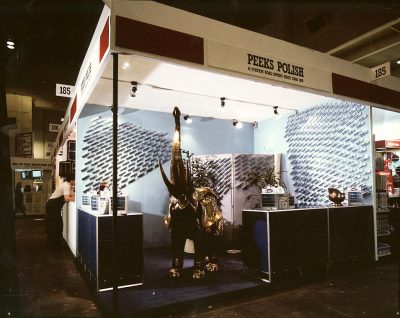 We are not a "here today, gone tomorrow" company. In 1990, Peek Polish was launched at the Ideal Home Show in London, England as seen by the photograph.
DEVELOPED FOR PROFESSIONALS
Demanded by those who have tried it

4-IN-ONE ACTION - Cleans, polishes, restores, and protects 38 surfaces... brass, copper, stainless steel, silver, gold, chrome, fibreglass, ceramics, glass, acrylics, painted surfaces and much more.

BEST VALUE FOR MONEY - The easiest and most economical product to use... No spills, residue, odour, cloth saturation or mess.

USED ON COUNTLESS ITEMS - The most universal product available... Use on silverware, bar taps, faucets, chandeliers, counter tops, sinks, mirrors, porcelain, and much more.

LONG-LASTING INGREDIENTS - Removes oxidation, heat discolouration, corrosion, scale... Leaves an anti-oxidant protective barrier.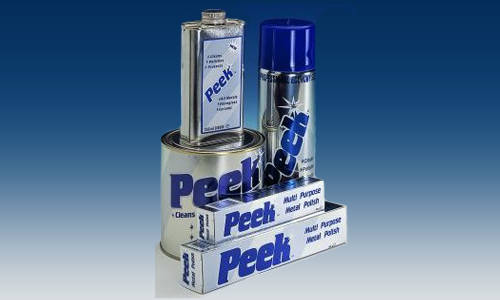 Peek is now in it's 30th year.