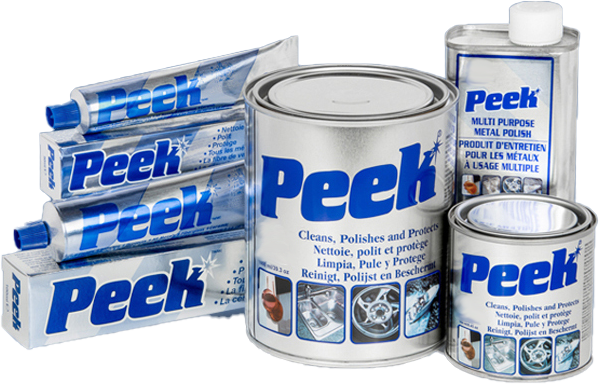 To Purchase Our Products in the United Kingdom or Ireland, Please Click on the Appropriate Button Below:
Learn why users around the world rave about our product
Available in a variety of sizes of paste, plus a liquid option, Peek Polish beautifully does three different jobs:
Cleans — Even badly tarnished and oxidized items are brought back to life.
Polishes — Surfaces are left bright and beautiful.
Protects — A light, invisible protective coating is left behind.
From aeroplanes, boats, cars and emergency vehicles to housewares, hardware, sporting goods, jewellery, musical instruments and more — Peek can be used on any non-porous surface. It's a "secret weapon" that's perfect for everything from industrial applications to home use.
And, our Spray Away Leather Cleaner — available only in the UK — is great for upholstery, carpets, wood, vinyl and more.
Our customers are our best salespeople. We're proud to share some of their comments here and throughout the site.
About
Tri-Peek International
It started with a good idea. After launching the first subsidiary of WD40 USA in Canada and exceeding sales forecasts for five years as a regional manager, Robert Peek resigned and relocated to the UK. In 1989, he approached a chemist to ask if he could develop a polish that worked on a chemical reaction and could be used on a multitude of non-porous surfaces—and a year later Peek Polish was launched.
Robert clearly remembers his first sale, made from the back of his car: a one-quart can. His second sale was a carton of cans, his third was 25 cartons —and the company really took off. Robert focused on the UK market and his brother handled North America from his Toronto office.
Peek removes tarnish, rust, water stains, chalking, lime deposits, heat discolouration, lead and powder residue, oxidation, bugs, tar, oil, fingerprints, tree sap, bird droppings, graffiti, black streaks and scuff marks of any non-porous surface. Used for cleaning the yellow hazing from headlights as well as black streaks from caravans and boats and oxidation from fibreglass.

Copyright © 2023 | Tri-Peek Polish - Metal Polish for Silver, Brass, Copper, Aluminum, Gold & Chrome International Inc. All Rights Reserved.